Davinci Emily 4 in 1 Convertible Crib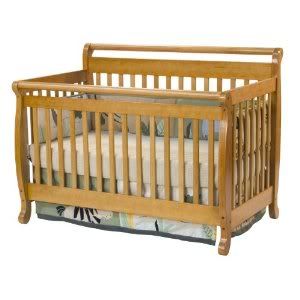 This modern style design by Davinci, The 'Emily' Crib is perfect for a more modern look in the nursery. The sleek lines and classic detail of this convertible crib blend perfectly for an attractive contemporary style.
This top selling crib is available in six finishes, Natural, White, Ebony, Cherry, Espresso and Honey Oak. There is a matching changing table available in each finish, as well as an available 4 drawer dresser or a combination dresser/changer. Making this a good choice if you want all of the pieces to come from a matching set.
The crib mattress support spring has 4 levels of height adjustment. There is also a conversion kit included that will enable you to convert this beautiful crib into a toddler bed with a bed rail, or it can be used as a toddler day bed. As your child grows you can also purchase a bed rail kit to convert this crib yet again into a full sized bed. The versatility of this set makes it a smart choice for those parents who don't want to have to buy a completely new bedroom set in a few years when their baby has outgrown the toddler bed stage.
Davinci prides itself on its reputation of being 'the safest crib company in the world' and boasts that they exceed JPMA standards in low toxicity paints and finishes on their products. Lead and phthalate Safe, non-toxic finish. This model is made of 100% sustainable New Zealand pine, with a metal spring mattress support.
The cribs and matching furniture pieces are made in Asia.
The Davinci brand is a subsidiary of Million Dollar Baby, who also makes other lines of infant furnishings under the names Babyletto and NurseryWorks, and also the BabyMod line available at Walmart and the ABC line in JCPenney.
At the time of this publishing the price of this crib was priced between $200.00 – 250.00, but you can see what price the finish you like is going for by comparing the prices at the retailers below.
Specifics and Features of the
Davinci "Emily" 4-in-1 Convertible Crib:
Dimensions: 54.5L x 34W x 42H
Weight: 80 pounds
4 level mattress spring height settings
Toddler bed conversion rail kit
Full size headboard and Foot board included
Constructed from New Zealand Pine
Additional Images of
The DaVinci "Emily" Collection:
Full Size Bed
Daybed
Toddler Bed
Pros of the "Emily" collection crib:
The most common positive attributes that customers who have purchased the Emily crib are that it is a beautiful, sturdy crib that was a good value for the price. The various finishes available made it suitable for most any decor. The smaller size made it perfect for use in smaller bedrooms, and had ease of putting baby in or getting them out of the crib for shorter parents. Most of the parents had no problems in assembling the crib but wished the directions were a bit more clear.
Cons of the "Emily" collection crib:
The main complaint was the susceptibility of the finish to minor scratching. The pine construction is soft enough that it seems to scratch or dent easier than a hardwood crib would. There were parents who said that their baby would bite on the side rails when they were teething, leaving marks.
DaVinci "Emily" - Crib Shopping Portal
This time saving portal will give you rating information and quick links to online retailers that offer this crib so you can compare prices and shipping costs from one central location. Click on the name of the retailer to find the price and special offers currently being offered by each.
** Editor's Note – On both Walmart.com and Amazon.com, there are various combinations of offerings for the Emily Collection, some with changing tables, or dresser, or just the crib from numerous retailers external sites (most of which are already listed in this table) – For this reason an accurate 5 Star rating is improbable and therefore, not included.
What customers are saying about the
Davinci "Emily" 4-in-1 Convertible Crib:
"easy to understand directions. quick & easy assembly (possible with 1 person, much easier with two). sturdy and exactly what we wanted"
"…After doing much research, I was pretty much settled on this bed. The most complaints that I did read came down to hard to assemble and that the wood tends to scratch easily. Let me just say that I had no problems with either of those…"
"…This crib is a wonderful. Very Safe, durable, and very fashion forward with the decor of the nursery…"
"…We were concerned that it might be darker than we wanted it to be in color but even the color pleased them. It looks more like a dark cherry wood… "
"…I bought this crib and the matching changing table/dresser for my son and daughter-in-law when it was on sale. I was really amazed at the quality. It is really sturdy and completely made with beautiful hardwood. The drawers glide smoothly. A beautiful set at an amazing price!…"
"…it is a very nice piece of furniture, for the most part very easy to assemble, just a few bumps along the way, but overall only took my husband and I a little over an hour. I recommend this product to anyone who is looking for a well made crib…"
Additional Accessory Furniture Pieces Available to Complete
The DaVinci "Emily" Collection in Your Baby's Room:
These complimentary furniture pieces are NOT all available from all retailers in all finishes.
If you have any further inquiries about the Davinci "Emily" Collection reviewed here, please post a comment below and we will try to get the answers for your question.