Dragon Nursery Theme Ideas
A Dragon nursery theme is an adorable choice if you are a fan of the medieval era. It also works if you just love dragons.
I can't tell you how disappointed I was to find out that this Sparky Dragon Crib Set has been discontinued by the manufacturer. We were so in love with this Bedtime Originals Sparky Crib Bedding Set when we found it shopping for my two nieces (who were both expecting the same day!)
Now, when we went looking for a replacement crib set and decor for someone going with a dragon nursery theme, but we couldn't find another cute dragon crib bedding set to share with you.
I have a few visits here that are looking for this Sparky Dragon set, whether to expand on the theme with accessories or just because they want a Dragon Nursery for their little knight. But it isn't available anymore. So what to do?
Create one!
When You Can't Find What You Want for Your Dragon Nursery…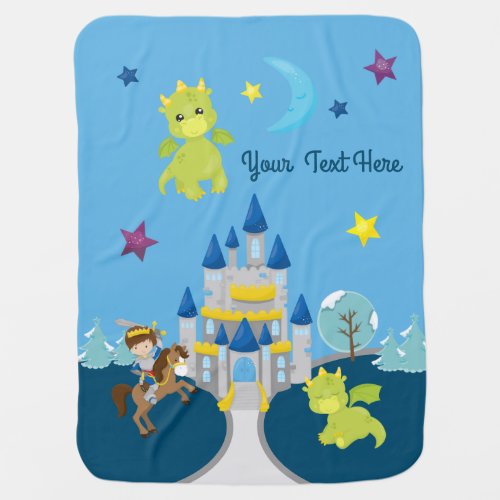 Personalized Baby Dragons & Knight Nursery Theme Baby Blanket

Needless to say, it's kind of disappointing when you can't find the look you are going for in your baby's nursery.
You have that image in your mind of exactly what you wanted to do with your baby's first room and then… Nothing suits what you are imagining.
Not wanting my Dragon loving parents to be disappointed with having No Dragon nursery decorations I decided to get creative and create one for you!
I found some cute dragon images created by PrettyGrafik Designs from their store on TheHungryJPEG.com.
From their cute design elements and basic shapes in a photo editor, I was able to design this cute medieval scene of a boy knight and his friends the dragons. The castle sits off in the distance and the baby dragons play. ( Well, one is asleep, but that's just because he played too hard for too long).
A wonderful thing about Zazzle.com is that you can design your own products and make them personalized too! Plus, they have literally dozens and dozens of products that you can put that design on.
Everything from stationary to kitchen towels and as shown below – bath decor! I am working on creating as many nursery related products with this cute Dragon nursery theme so that you can pick and choose what items will suit your needs best. Below are some of the items I have already posted there for sale.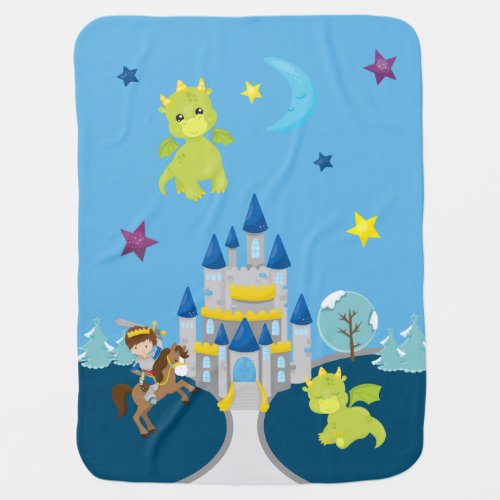 Baby Blanket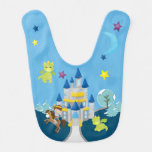 Baby Bib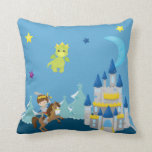 Personalized Throw Pillow

Baby Burp Cloth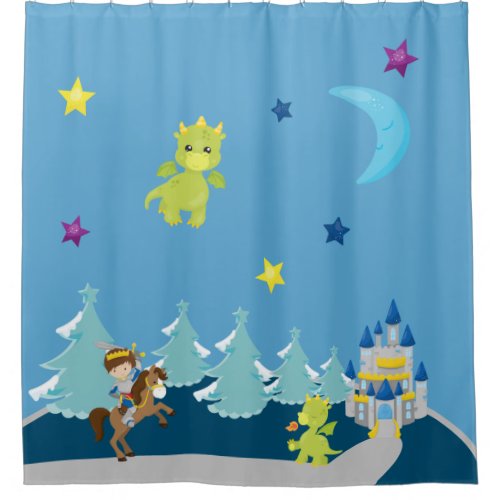 Cute Baby Dragons & Knight w/ Castle Nursery Theme Shower Curtain

There will be more products based on this Dragon Nursery Theme, and if I get to feeling really creative – maybe even in alternate color schemes!
Sparky Dragon Nursery Theme by Bedtime Originals

DISCONTINUED
The Sparky Dragon Nursery Theme has a lot of accessories. Add any or all to the Sparky crib bedding set, making it easy to really bring the theme into every corner of your child's nursery.
Decorate your Dragon Nursery with Dragon Toys
Another great way to decorate your baby's nursery in a dragon theme is with toys. They will grow into them over time. And time sure does fly – just like those dragons!
Alex Wooden Dragon Castle
Melissa & Doug Fold & Go Castle
Dragon and Knight Castle Play Tent Playhouse
These castle playsets would be adorable as a decoration on a bookshelf in your infants room. When they are old enough to start developing their hand-eye coordination you can take it down and let them build their own Dragon Castle empire.
Most of the sets available are designed for kids over 12 months in age. Don't worry, it won't be long before they can safely play with it.
Wall Decals for your Dragon Nursery Theme
Wall decals are a fast and easy way to really add some color to the walls. They usually are easy to remove so you don't have to worry about messing up your paint. It also makes it a snap to change them out as your child grows. That is, if they ever outgrow dragons and castles!
You may want to add a bit of a variety in your theme, and if dragons is what you want, then there are quite a few wall decals out there to choose from. Here is just a sample of some of the designs we found that may blend in well with the nursery decor.
RoomMates Dragon Hunter Peel and Stick Wall Decals

Valka Quote – Wall Decor | Train Dragon

Wall Vinyl Sticker Nursery Cartoon Dragon Fire

Sunny Decals Knight and Dragon Fabric Wall Decals, Standard

Wallmonkeys Panorama with Castle Dragon and Knight

Wallies Medieval Times Wallpaper Mural, 2-Sheet

No matter what your dragon desires, there are lots of great dragon theme products out there and we here at BedtimeBaby.com hope that we've sparked a bit of fire in your creativity mode when planning your child's nursery.