Monkey Crib Bedding & Decor
Monkey Crib Bedding sets are one of the most popular themes in Baby Room Decor these days. Cute, cuddly and playful, just as you expect your new baby to be.
Whether you are planning on your decorating theme for a baby girl or baby boy, there are many monkey crib bedding and nursery decor choices – All of them absolutely adorable!
Available in many styles and colors, and in just about every price range, Monkey Crib Bedding
and nursery decor is apparently very much in demand.
This page is devoted to neutral Monkey Crib Bedding themes, but be sure to check out our gender specific Monkey Themes for Girls and Monkey Themes for Boys for more great monkey crib bedding ideas.
Scroll down through a variety of bedding sets we have selected because of their designs, popularity, price and customer satisfaction ratings. You'll be sure to find the perfect design to start monkeying around with in your baby's nursery.
In a Hurry? Check A Great Selection of Monkey Crib Bedding Sets
on Amazon.com
Boutique Baby Monkey Go Happy Crib Bedding Set
Boutique Baby Monkey Go Happy 13 Pc Nursery Crib Bedding Set
&
This adorable set by Geeny is a great neutral design for parents who opt to wait until baby is born to find out if they are having a boy or a girl. It also works great if you plan on having more than one baby and want to ensure that you can reuse the crib bedding no matter what the gender of your next child. The 13pc set is a great way to get a complete look when planning your Monkey nursery theme.
This Monkey Go Happy Crib Bedding Set includes:
Crib sized comforter
Coordinating Fitted Crib Sheet
Matching Crib Skirt
Monkey Go Happy Crib Bumper
Playful Monkey Diaper Stacker
Two Window Valances
As well as a Toy Bag, Two Throw Pillows and Three Decorative Wall Hangings.
Neutral Monkey Themes
Monkey Go Happy
is our favorite neutral Monkey Nursery theme, but we also realize it may not be yours. That's okay, we found more than half a dozen more themes that would be perfect for a neutral Monkey Nursery theme.
Little Bedding 3 Piece Comforter Set, Jungle Pals
NoJo Jungle Babies 8 Piece Bedding Set
Little Bedding Jungle Dreams 3 Pc Bedding Set
Dream On Me Animal Kingdom 3 Pc Crib Set
Baby-Touch Plush Unisex Blanket, Monkey
Baby Safari Monkey 4 Piece Crib Bedding Set
Monkey Jungle Safari Baby Bedding 9pc Crib Set
SoHo Curious Monkey Crib Bedding Set 13 pcs
Little Bedding Jungle Time 3 Piece Crib Set
&
Looking for More Gender Specific Monkey Crib Bedding?
Check out these pages for all the Monkeys you could dream of:
Girls Monkey Crib Bedding Sets
Monkey Wall Art – Customize Yours From Zazzle
If you can't find the wall art pieces that you want for your baby's Monkey Nursery, we have found that you can find an enormous selection of the cutest Monkey prints to fit with most nursery themes. Best of all with Art from Zazzle, you can personalize the prints, canvas and other great products with your baby's name, birth information or any other information you might prefer.
Here is just a very small selection of some of the adorable designs available in the Zazzle marketplace: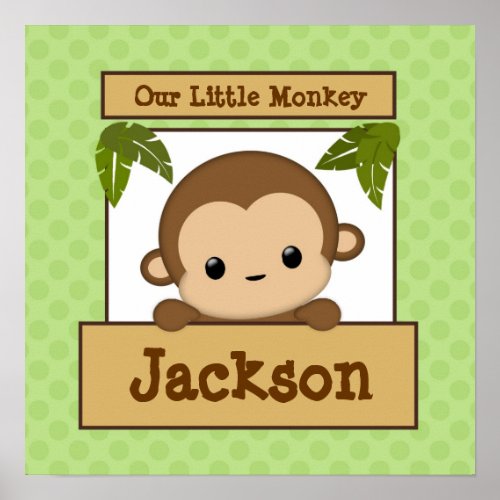 Our Little Monkey Art Print Personalized NameGET DETAILS
SAMUEL Personalized Monkey Wall Art Name Canvas Gallery Wrapped CanvasGET DETAILS
Baby Luv Jungle Monkey Nursery Wall Art PrintGET DETAILS
Mod Pop Monkey Nursery Wall Art PrintGET DETAILS
Wildlife Jungle Monkey Nursery Wall Art PrintGET DETAILS
M is for Monkey Jungle Nursery Wall Art Print 8X10GET DETAILS