Nautical Nursery Ideas in Crib Bedding for Boys
Nautical nursery ideas in crib bedding and a nautical theme in the nursery have long been a favorite for many families.
Its classic style and colors blend with most any home's decor. It lends an air of class and maybe even a touch of affluence to your baby's room.
The various shades of blue, from the dramatic navy to the soft pastel of a light blue, add a calming and soothing atmosphere to the nautical nursery theme.
Perfect for homes near the ocean, or families with nautical history, such as a sailor in the Navy or those who are into sailing for sport and leisure.
Find the nautical nursery ideas in a look that suits your family's taste and style by browsing all the Nautical Nursery Ideas below.
Nautica Nautical Adventure 4 pc Crib Bedding Set
DETAILS
This "Nautical Adventure" collection from Nautica is attractive for any little boy's nursery.
It demonstrates the classic nautical look that Nautica is known for.
This 4 piece set includes the basics to get you started on an incredibly adorable and classic looking Nautical nursery.
Item includes:
The Nautical Adventure Comforter in shades of blue, white and gray
The coordinating fitted crib sheet
The contrasting solid colored crib bumper
A matching 6″ X 8.25″ X 12″ storage bin to finish off the nautical look.
What is so great about a nautical-themed nursery?
It is not so childish looking. No one wants to have to be updating the decor soon after your child turns into a toddler.
The seafaring nautical look can be updated a little at a time. Over the years it can grow with your son clear into adulthood.
This Nautical Adventure collection by Nautica also has many complimenting accessories. You can purchase these separately to complete your nautical theme in your son's nursery.
You can see a few of them below.
&
More Nautical Nursery Ideas
We love the Nautica Nautical Adventure crib bedding above. There are many more styles and designs that may be more to your taste than the one featured above.
With that in mind here is a selection of more Nautical nursery ideas. With the crib bedding being such a huge part of any nursery theme, we chose some of our favorites to give you a wider view of what is available today.
There are those that are much more expensive, and some are less 'cute' and more 'classic'. Browse for yourself to find the best design style to suit your vision for your little boy's nursery.
Finding the Perfect Accessories to Complete Your Nautical Nursery Theme
When you're looking to take your nautical nursery theme beyond just the nautical crib bedding, it can be hard to decide on what accessories to use.
Should you choose from the coordinating nautical crib bedding set?
How might you incorporate your own sense of style into the finished nursery theme?
If you're like me, you like to think outside the box. Adding your own personal touches to make the room your own creation. I have never been one who just goes with what is bundled and packaged as a set.
With that touch of individual creativity in mind, we searched out a few links to some great online sources.
For more nautical nursery theme accent pieces that you may want to do a search with these other online retailers.
They may have just the perfect piece to incorporate in your little boy's high seas adventure room.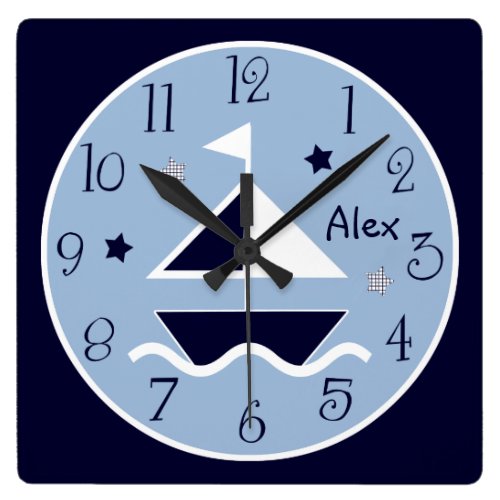 Personalized Nautical Sailboat & Stars Cute ClockFind it on Zazzle.com
For wall hangings, artwork, and soft goods like pillows and blankets, one great source for unique nautical decor items is Zazzle.com.
Many products can be customized to include your child's name or even birth information. A great way to really personalize his room and makes for great keepsakes.
Amazon.com has an extensive selection of so many accessories that it has to be on the list as well. You can even find fish netting that you could use as wall decor or hold treasured stuffed animals. ( Just be sure not to hang it where baby can grab it or get tangled in it.)
Other great Nautical Decor Resources:
Wayfair.com has a lot of nautical nursery ideas you could find and include in your nursery.
Walmart.com is another great source for decor items you can use to complete the Nautical Nursery.
There are probably dozens more, but this should get you started and keep you busy in planning and choosing the accents for your Nautical Nursery.
Boat Design Twin Bed
Check out this great find to really carry on the Nautical Nursery theme into your son's growing years. I found this awesome twin bed that looks like a boat.
Not only is it adorable, but one of the best parts is that you could continue to use most of the decor from the nursery theme for a few more years after your baby boy grows into a little sailor.
The boat design would look amazing in nautical decor, and it also has built-in drawers for storage and shelves for books in the boat's bow.
What little boy wouldn't love to sail away into dreamland in this very cool boat bed.
Enjoy your adventure in decorating with the high seas!
---